Search Engine Optimization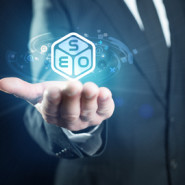 SEO is vital to your website whether you want to rank in organic results or advertise with Pay Per Click. The key to a successful online presence is actually planning your optimization ahead of your site's design; if you already have a site, it can still be optimized by tweaking current pages and adding new content, among other things.
OUR SEARCH ENGINE OPTIMIZATION PROCESS
– The first and more important step will be analyzing 1. your site and 2. your market so that we fully understand your products and services as well as your customers' needs and shopping behaviors.
– We will then create a list of keywords and phrases that will specifically target and attract customers that are interested in your products and services.
– These keywords and phrases will be used to optimize your site whether it's applying them to current pages and/or creating new content.
Our search engine optimization service is available as a stand-alone service – at the starting price of $475 for small websites – or as part of our marketing packages.
NEED HELP OPTIMIZING YOUR SITE TO GET TARGETED TRAFFIC?

With 15+ years of experience in SEO, we will optimize your site to get you qualified leads & customers. For more info or to get a quote, contact us here.